The Suzhou Industrial Park
Introduction
The Suzhou Industrial Park (SIP) is currently the single largest cooperation project between Singapore and China. More than a commercial venture, it is the vehicle through which Singapore shares its developmental experience with China. SIP provides a platform for both countries to learn from each other, as officials work jointly to develop this integrated industrial town and adapt relevant Singapore "software" such as management and administrative policies to suit local conditions.
In February 1994, three key documents were signed in Beijing to launch the SIP project. Singapore Senior Minister Lee Kuan Yew and Chinese Vice Premier Li Lanqing signed the first agreement on overall cooperation. The other two covered software transfer and commercial terms for the project. Work began in May that year with the landfill of the Start-Up Area, while piling for the first batch of ready-built-factories (developed by a consortium led by JTC International) took place 3 months later.
A joint-venture development company (65% owned by a Singapore-led consortium and 35% owned by a Chinese consortium) was established to work closely with the local government - the Suzhou Industrial Park Administrative Committee (SIPAC). Known as the China-Singapore SIP Development Co., Ltd (CSSD), the company purchases raw land from SIPAC, develops infrastructure and sells the prepared land to investors.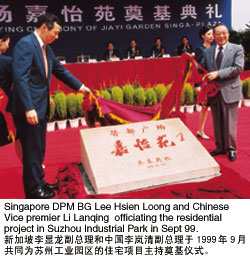 Development Status
SIP celebrated its 6th anniversary on 12 May 2000. Within the brief 6 years, the first 8 sq km has been transformed from farmland into a modern integrated industrial township with hi-tech industries, quality residences, attractive commercial properties and wide-ranging recreational amenities.
SIP has attracted investors (including 29 Fortune 500 companies) from the US, Europe, Japan, Singapore and other parts of Asia. It houses 164 projects with a total fixed-asset investment of US$4.4 billion, and has created some 20,000 jobs. While most of the earlier investments were in the electronics, chemicals and engineering sectors, SIP now has a growing IT sector, with a modest cluster of 20 companies and 300 professionals. This provides SIP with a sound foundation to meet the challenges of the New Economy.
In May 2000, the investment climate for export-oriented projects in SIP was further enhanced when the Chinese State Council approved the setting up of an Export Processing Zone (EPZ) in SIP. One of only 15 EPZs China-wide, the SIP EPZ will include features such as ready-built factories and warehousing facilities in its initial 41ha.
SIP is more than just another industrial park. Its planners have taken care to provide residents with an excellent living environment. Amenities such as neighbourhood centres, shopping centres, local and international schools, clinics, and sporting facilities began their operations in pace with SIP's overall development. Its landscaped green lung - the Central Park - covers an area of over 10 ha, and is popular amongst residents as well as the general Suzhou populace. All these have helped to make SIP a choice residential area. 9000 people have already made it their home. With home-buyers queuing up for days to buy properties, the SIP population is expected to grow to 15,000 by end 2000.
Since 1994, more than 700 officials from Jiangsu Province and Suzhou City have visited Singapore to study its system of public administration, adapting and applying what they had learnt to SIP. SIP stands as a model for other development zones, and has hosted visits of some 120,000 officials from all over China. Software transfer has helped to put in place a pro-business environment in SIP which investors have come to appreciate and value.
Future Directions and Growth
On 1 January 2001, SIP will cross yet another milestone in its development. As agreed in the Memorandum of Understanding signed by Singapore and China in June 1999, the Chinese consortium will assume majority stake in CSSD. Concomitant with this, a competent and well-trained team of Chinese managers will take over the running of the company. They will continue developing the SIP, using the completed first 8 square kilometers as a reference model.
This changeover marks the achievement of the core objectives of the SIP project, and epitomises the spirit of cooperation between Singapore and China.