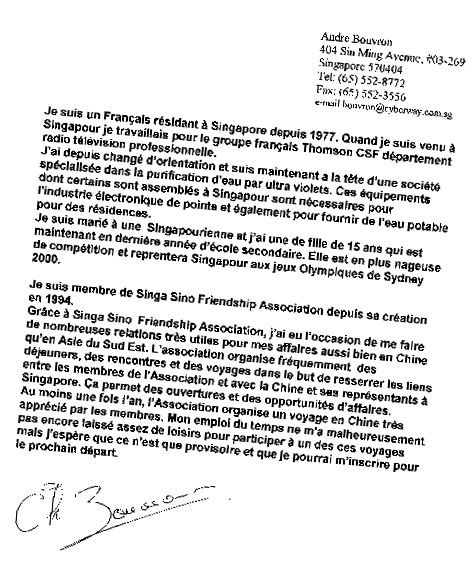 I am a French living in Singapore since 1977. When I first came to Singapore I was working for the French group Thomson CSF department as a radio television professional. I have since changed my orientation and I am now the managing director of a company specialized in the water purification by ultra violet. These equipments (some of them are assembled in Singapore) are used in the advanced electronics industries and also to provide drinking water for residences. I am married to a Singaporean and I have a 15 year old daughter who is now in last year of secondary school. Further more she is a national swimmer for Singapore. She has been selected for the Olympics games in Sydney 2000.
I have since 1994, been a Member of Singa Sino Friendship Association and appreciated to have many friends there.
Thanks to Singa Sino Friendship Association, I had the opportunity to make many very useful contracts or my business in China and South Asia. The association organizes frequent lunches, meetings and travels with the aim of creating links between the Members of the Association and with China and its representatives in Singapore. This can open the way for business opportunities. At least once a year, the Association organizes a trip to China. It is much appreciated by the Members. Unfortunately my timetable did not allow me to take part on any of the trips. Anyway, I hope that it is only temporary and that I will be able to register for the next departure.