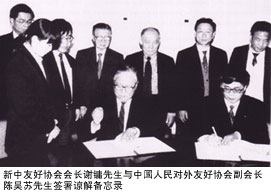 中国人民对外友好协会与新中友好协会(以下简称双方)为加强两国与两国人民之间的友好关系,达成共识如下:
(一) 双方将遵照两国的有关法律与法规,在相互尊重主权和平等互利的基础上,促进两国人民之间在经济、社会、文化、教育、体育与科学等方面的合作与交流。
(二) 条款(一)提到的合作与交流包括以下各项:
双方组织企业家、商人、经济学家、技师、教师、医生、科学家、新闻工作者、文学艺术界人士及其它方面人员互访。
双方开展两国民间文化交流,互派文化艺术团、组进行友好演出,互换具有本国鲜明特色的各种展览。
双方互派专业考察与培训人员。
组织体育代表团互访。
在社会或社团活动方面相互协助。
相互交换有历史、文化、经济、社会、教育和科学价值的出版物及有关音像制品。
促进两国间的旅游业。
其它双方同意的方式。
(三) 双方将努力发展两国与两国人民之间的友谊,通过不断达成的协议来鼓励在其它领域的合作。
(四) 双方将就如何具体实施本谅解备忘录协商制定年度或较长时间的计划,也可在任何需要的时候进行协商,以便就执行本谅解备忘录所采取的方法达成一致意见。
(五) 本谅解备忘录自签字之日起生效。在任何一方以书面形式通知另一方希望结束执行本谅解备忘录之日起六个月后此谅解备忘录失效。
签字双方受相应协会委托签署本谅解备忘录。
本谅解备忘录于1994年5月在北京签署,一式两份,每份用中文、英文写成,两种文本具有同等效力。

中国人民对外友好协会
副会长:陈昊苏

新中友好协会
会长:谢镛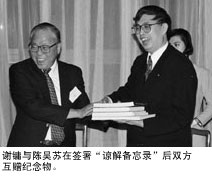 Singa-Sino Friendship Association and the Chinese People's Association for Friendship with Foreign Countries (hereinafter referred to as "the parties"), desiring to strengthen the existing friendly relations between Singapore and China and their peoples, Hereby agree as follows:

Article I

The parties shall promote the development of economic, social, cultural, educational, sports and scientific co-operation between the peoples of the two countries on the basis of mutual respect for each other's sovereignty and mutual benefit in accordance with the relevant laws and regulations of the respective countries.

Article II

The co-operations referred to in Article I shall include the provisions for the following matters:
Exchange visits of entrepreneurs, business people, industrialists, economists, teachers, technologists, doctors, scientists, journalist, writers, artists, musician and other experts.
Exchange of cultural programs, artist groups, friendly cultural performances and various exhibition of national features.
Exchange of observation and training personnel.
Exchange visits of athletic and sports teams.
Mutual assistance in the fields of social or community development.
Exchange of publications and videos of historical, cultural, economic, social, educational and scientific value.
The parties shall promote tourism between the two countries.
Any other means as the parties may agree upon.
Article III
The parties shall endeavor to develop friendship between the two countries and their peoples by way of encouraging co-operation in other fields as may be agreed upon by the parties from time to time.
Article IV
The parties shall consult each other whenever necessary in order to agree upon ways and means of implementation of this MOU. As regards the actual implementation of the MOU, the parties shall make an annual plan or a plan for a longer period through consultation.
Article V
This MOU shall come into force on the date of its execution and shall cease to be in force upon expire of six months from the date on which either party has notified the other in writing of its intention to terminate it.

In witness whereof, the undersigned, being duly authorized by their respective associations, have signed the present MOU.
Executed and effected in Beijing on this day of May 4th 1994 in two originals each in Chinese and English, all two texts being equally authentic.